The city is like poetry
(and all the world's a livestream)
Don't Panic Don't Panic Don't Panic.
Or if you want Michelin-starred rigatoni… panic.
---
Back to the Village
NYU's Grey Art Gallery has a digital version of its exhibition, "Taking Shape: Abstraction from the Arab World, 1950s ~ 1980s" for your viewing pleasure.
Hoorah for indie films - The Film Forum on W Houston Street will start streaming new releases via a virtual screening room for a multi-day rental fee. First up: Sorry We Missed You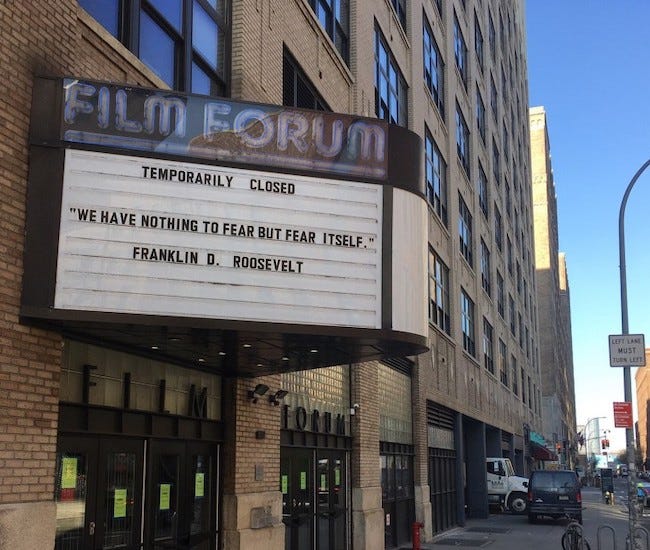 Alex, who writes the blog Flaming Pablum, posted some of his NYC favorites.
Three Lives Update: order books online!
The Village Alliance has put together a bunch of great things. Like this comprehensive list of helpful links "that you may find helpful during these times of uncertainty." And this interactive map of open Village businesses. Plus this google doc tracking the status of all Village businesses.
Meanwhile, Artist Jorge Arcagni has been preparing for this:
Bus Stop Cafe on Hudson Street has really good milkshakes so you should help them out.
Courtesy of Westbeth Artists Housing. If you can identify the faces in the three portraits and the scene they're superimposed onto, Andy Warhol would be proud:
Elsewhere around the city
This Hell's Kitchen bar is selling Cheetos and chips with your drinks to go. And you may need that drink because… Taking down basketball hoops in NYC parks is a whole new kind of heartbreak. Cheer up time: Empire State Building light shows! Synched to "Empire State of Mind" by Alicia Keys. Every night. No view? There's a live stream for that. If that's not your thing, Dark Side of the Rainbow is a classic synchronization option. Also, this is the best use of a work phone I've ever seen.
---
How about a quote?
"A poem compresses much in a small space and adds music, thus heightening its meaning. The city is like poetry: it compresses all life, all races and breeds, into a small island and adds music and the accompaniment of internal engines. The island of Manhattan is without any doubt the greatest human concentrate on earth, the poem whose magic is comprehensible to millions of permanent residents but whose full meaning will always remain elusive."

- E.B. White, Here is New York
---